Being A Self-Advocate: Communication is the Key to Success
According to the New Oxford American Dictionary, the verb advocate means to "publicly recommend or support." Advocacy, the noun conjugation of advocate, is defined as "public support for or recommendation for a particular cause or policy." However, self-advocate and self-advocacy are not officially defined in any dictionary that I could find, and yet they are incredibly important – shall I say, essential – to everyday life. But what do they mean?
Self-advocacy is defined by wrightslaw.com as the following:
"Self-advocacy is learning how to speak up for yourself, making your own decisions about your own life, learning how to get information so that you can understand things that are of interest to you, finding out who will support you in your journey, knowing your right and responsibilities, problem solving, listening and learning, reaching out to others when you need help and friendship, and learning about self-determination."
Now, that is a lot of information, and a lot of words, for what can be described in a much more concise, basic way: take the regular old word advocacy, and reflect it back onto yourself. So, essentially, self-advocacy could simply be defined as "public support for or recommendation for…" yep, you guessed it, "…yourself."
To be a self-advocate, it is important to be able to represent yourself and speak up for yourself in the most effective way not only to your network of peers and professors, but also to your wider-ranging and more general community. Sometimes it can be incredibly difficult to speak up for yourself or ask strangers, or even peers and professors, for help, but that can be imperative in an educational setting. Too often, bright and engaged students (read: all Wesleyan students) fall through the cracks because they simply are uncomfortable asking for guidance and support.
Now, it is easy to say "just ask," but it is much harder to actually do it. If and when you face discomfort, or hesitate when preparing to ask for something, whether it be an explanation for a grade, an extension on an assignment, or simply a time to meet, just remember this: all of the people you meet at Wesleyan truly want you to succeed. They are your support network, your safety net. They want you to be a self-advocate, simply so that they can accommodate and adjust to your wants and needs to further increase your likelihood of success. My advice? If you feel anticipation before saying something, sending an email, or even knocking on a door at office hours, take a deep breath, count to three, and try it. All you need is a split second of courage and the worst part, the anticipation part, will be over. Try it over and over again until it becomes more comfortable. And believe me, it will.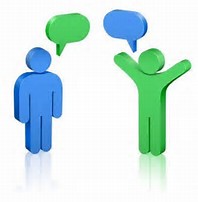 Another key part of being a self-advocate is communication. It can be incredibly difficult to articulate what you want to say in an in-person conversation, simply because you must listen, absorb, and process what the other person is saying in a very short amount of time. So, do not be afraid to take your time! Tell the other person you need a moment to think, or simply reflect back to them what they said to you to make sure you have heard it correctly. In-person conversation is an art, and the only way to develop your skills is to use them. Online conversation, however, is a totally different ballgame.
When corresponding online, or over the phone, remember that you are not there to represent yourself. Your facial expression and body language cannot help you (or hurt you!), so you must put it all into the email, text, or phone call. The other person cannot see you, but this can be a good thing. You can have notes written down, or typed up, so that you make sure you get to every point you want to make, or question you want to ask. Just remember that when sending an email, especially to a professor, always be as formal and respectful as possible; professors get hundreds of emails every day and will not be eager to respond to a "yo, sup?" Address the recipient by the most formal title they have, whether it be professor, Dr., Mr., Mrs., or Ms., and sign it with a thank you and your full name and class year. And, when in doubt, use your self-advocacy and communication skills: ask someone more experienced than you for help! Teamwork makes the dream work, and crafting the perfect email can definitely be a team activity.
Self-advocacy is all-encompassing; it is fluid, and changes depending on who is exhibiting it. One person's strengths may be another person's weaknesses; remember that you can take advantage the resources and people around you simply by asking. Try not to get discouraged; your first year at a new place can be incredibly difficult, but, like I said before, remember that everyone at Wesleyan wants you to succeed. As long as you are your best self, you will thrive. Go Wes!
Thanks for reading!
Haley Brumberger, 2020, Academic Peer Advisor