Dear New Wesleyan Students,
Be prepared to share your thoughts and ideas when faculty,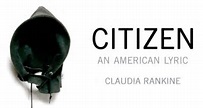 administrators, and fellow students engage you in conversation about Citizen: An American Lyric by MacArthur Genius grant-winning poet Claudia Rankine on Friday, September 1 of New Student Orientation.
All information regarding FYM 2021 can be found at: http://wesleyan.edu/orientation/first_year_matters.html.
The themes associated with Citizen are thought provoking and may challenge your thought and beliefs…so please be prepared!  For questions about accessing the text, contact the Summer Interns via 860-685-5666 or orientation@wesleyan.edu.
Enjoy the rest of your summer and we'll see you in late August.
Kevin M. Butler, Assistant Dean of Students