There's a great opportunity in the upcoming semester (F 2017) for students interested in making musical theater.   Please note that there are prerequisites, but prerequisite over-rides may be available for students who have the appropriate skill set.  This can be done during the Adjustment period or Drop/Add period after consulting with the instructor.
Tony and Obie Award Winner, Greg Kotis (Urinetown) will be teaching the Music Theater Workshop, THEA 279.
Greg Kotis's webpage lists this info about him:
Greg Kotis is the author of many plays and musicals including Michael von Siebenburg Melts Through the Floorboards, Yeast N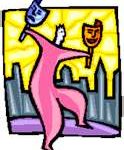 ation (Book/Lyrics), The Unhappiness Plays, The Boring-est Poem in the World, The Truth About Santa, Pig Farm, Eat the Taste, Urinetown (Book/Lyrics, for which he won an Obie Award and two Tony® Awards), and Jobey and Katherine.  His work has been produced and developed in theaters across the country and around the world, including Actors Theatre of Louisville, American Conservatory Theater, American Theater Company, Henry Miller's Theatre, Manhattan Theatre Club, New York Stage and Film, Perseverance Theatre, Roundabout Theatre Company, Soho Rep, South Coast Rep, and The Old Globe, among others.  Greg is a member of the Neo-Futurists, the Cardiff Giant Theater Company, ASCAP, the Dramatists Guild, and is a 2010-11 Lark Play Development Center Playwrights Workshop Fellow.  He grew up in Wellfleet, Massachusetts and now lives in Brooklyn with his wife Ayun Halliday, his daughter India, and his son Milo.
Additional information about Greg Kotis is at http://gregkotis.com/