Meet the Academic Peer Advisors
Academic Peer Advisors provide students with information about the curriculum and course registration and also serve as a source for academic resource referrals. During New Student Orientation, Peer Advisors will be available in the residence halls, and at different sites throughout campus, to help new students prepare for individual meetings with faculty advisors. Peer Advisors maintain a regular presence in the residence halls during the academic year and can be contacted at peeradvisors@wesleyan.edu to schedule individual advising appointments.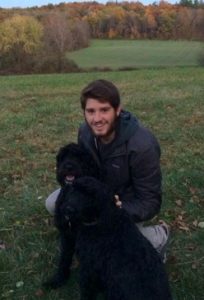 Hi there! I'm Aidan Winn 2018, a rising senior and an Academic Peer Advisor. I'm thrilled to have the opportunity to work with many of you this coming year, and would love to help with anything from scheduling to time management, or simply just to chat. I can help answer almost any question you might have! I'm from Northampton, Massachusetts, only about an hour away from Wesleyan. I have an older brother who graduated from Wes in 2016, and a younger sister in high school (Wesleyan is her top choice!). I am majoring in Science and Society, a program unique to Wesleyan, with concentrations in Biology and Sociology. I am a student athlete and member of the Wesleyan Swimming and Diving team, an active participant in the theater community here at Wes, and an avid musician. Needless to say, I am pretty busy at Wesleyan, but I have found tons of ways to have fun and connect with other students, and cannot wait to get back to Wes in the fall! If you have any questions, please reach out to me any time at awinn@wesleyan.edu.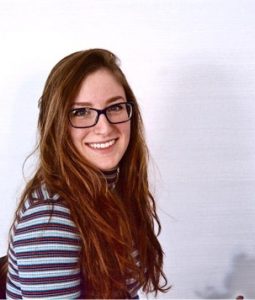 My name is Haley Brumberger 2020, and I am a prospective English and possibly Mathematics double major. I am from a suburb outside of Philadelphia, PA, and I am a huge Flyers fan (to be honest, I am just a huge hockey fan in general). I took a gap year before coming to Wesleyan, and it was a life-changing experience (please feel free to ask me about my year off; it is something I love to talk about). When I arrived at Wesleyan after my gap year, I was pretty committed to pursuing Physics as a major. However, Wesleyan's flexible curriculum allowed me to explore all the different areas of study that I am interested in – Studio Art, English, Environmental Science, and Math, to name a few – leading me to realize that I am more excited and passionate about other subjects. Outside of the classroom, and in addition to being an Academic Peer Advisor, I am a Writing Mentor, a member of Wesleyan's Club Equestrian Team, a member of the Wesleyan Ski and Snowboard team, and a captain of the Wesleyan Club Ice Hockey team. I am also a Brother of the co-ed fraternity on Campus, Psi Upsilon. I would love to answer any questions, address any concerns, or provide some advice on, or insight into, any problems you may have, so please do not hesitate to reach out to me at hbrumberger@wesleyan.edu. I look forward to meeting you in the fall! Welcome to Wes!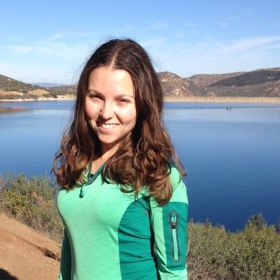 Welcome to Wes! My name is Elisa Greenberg 2018, and I am a senior Government and Psychology double-major from San Diego, California. On campus, I participate in a myriad of activities. I have been a varsity coxswain on the Women's Crew team for three years, I perform in many student-run theater productions, and I am a director of WeShuffle—Wesleyan's tap-dance group. This year, I will be a teacher for WesBam, Wesleyan's student-run fitness group, and will be joining the board of a Middletown non-profit. Some of my hobbies include running, challenging myself to eat as much frozen yogurt as possible, and reading the news and trying not to scream. If you have any questions about anything mentioned above, or just want to speak with someone about Wes, I would love to talk to you! Feel free to email me at egreenberg@wesleyan.edu. I can't wait to meet all of you!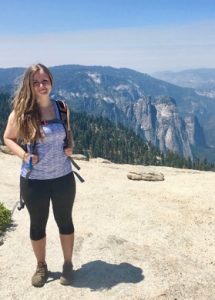 My name is Jackie Leete 2019, and I am a junior from Fairfield, Iowa. I am double majoring in Neuroscience & Behavior and Earth & Environmental Science, but I also love art and have taken a variety of studio art classes, as well as psychology and sociology courses. My favorite extracurricular activity at Wes is Wesleyan Science Outreach, in which I volunteer once a week with a group of Wesleyan students at local elementary schools to teach science lessons. Some of my other interests are cooking pancakes and hiking the national parks. I am excited to be an Academic Peer Advisor this year; I look forward to helping with New Student Orientation, and meeting with students throughout the year. If you have any specific questions about Wesleyan, or any general questions/concerns about your transition to college, please shoot me an email at jleete@wesleyan.edu and I promise to help you to the best of my ability!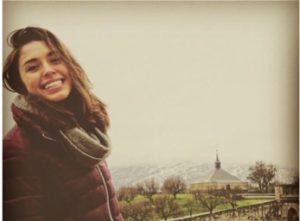 Hello! My name is Rubye Peyser 2018, and I am a senior from Boston, MA. The 2017-2018 term will be my third year as an Academic Peer Advisor and my second year as the intern in the office of Student Academic Resources. Aside from Peer Advising, I am a Molecular Biology and Biochemistry (MB&B) and Hispanic Studies (HISP) double major. As my majors show, I have pretty diverse/random interests and love taking classes both in and outside of my concentrations. To work toward completing my HISP major, I spent second semester junior year studying abroad in Spain through the Vassar-Wesleyan Madrid Program. This year, I plan on writing a thesis on the gene expression research I am doing in a lab here at Wes. If you have any questions, please reach out to me any time at rpeyser@wesleyan.edu.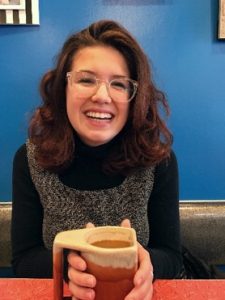 My name is Sara Eismont 2018, and I'm a senior from Pittsburgh, PA. I spent my first year at Smith College before transferring to Wesleyan, and I'm so glad that I did! I am a Sociology major and Data Analysis minor, and I love that I am able to take a diverse range of classes across my two areas of study. In addition to working as an Academic Peer Advisor, I also am the Site Director of Let's Get Ready, a free SAT and college preparation program for local Middletown high school students, and am currently training for my second half marathon in the fall! I think that Wesleyan can be a really special place to spend four (or three!) years if you surround yourself with good friends, exciting classes, and personal projects about which you are truly passionate. Please feel free to reach out to me at seismont@wesleyan.edu if you have any questions, concerns, or excitement that you want to share! Welcome to Wesleyan, we can't wait to see you in the fall!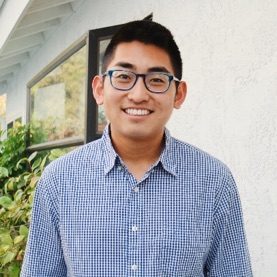 My name is Steven Chen 2018, and I'm from San Diego, CA. I'm double majoring in History and Government, and completing a certificate in Environmental Studies. I'm interested in the history of food and farming, and I'm passionate about food justice and sustainability. On campus, I work as a student assistant in the Wesleyan Archaeology and Anthropology Collections, and as a research assistant for the Government department. I'm also a member of the Men's Tennis Team, so if you have any questions about balancing athletics with academics, feel free to direct them my way! When I'm not in bed watching Netflix, you can catch me cooking for my friends or exploring the wilderness of the Northeast (there's not a lot of green in California). I encourage you to reach out to any of the peer advisors with any questions you may have about academics, or if you just want to chat! Feel free to email me at slchen@wesleyan.edu.